The NAIA: Prioritizing Common Sense Practices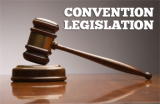 The NAIA closed its 2019 Annual Convention last week by passing a proposal to reorganize and expand existing financial assistance regulations. The proposal broadened the existing rules in recognition of commonly accepted practices and provided additional clarity regarding what can and cannot be provided to student-athletes.
"This is another example of how the NAIA uses common sense to prioritize the student-athlete experience," said NAIA President & CEO Jim Carr. "Regulations should not put students at a disadvantage simply because they are athletes."
Previously, student-athletes could not accept any financial benefit other than those from an immediate family member or the school's committee on scholarships or student loans. For example, if a student-athlete's parent wanted to take him and his teammate out to dinner, the teammate previously would have been in violation of the NAIA Bylaws. Under the new regulation, this is now allowable.
"While the NAIA certainly supports appropriate regulations and reasonable oversight, our membership recognized that our bylaws were not allowing our institutions to support their student-athletes in a practical manner," said Chesney Sallee, NAIA director of membership services. "We could have tried to legislate each specific scenario, but membership decided that would overcomplicate the matter. This change is another example of how the NAIA strives to create a culture of trust and respect on our members' campuses ."
Under the new policy, student-athletes can now:
Accept simple forms of hospitality from host families for family friends (movie tickets, use of car, care packages)
Utilize free transportation provided by the institution for all students
Attend dinner at a faculty member or coach's home
Accept gifts from a friend or significant other
Learn more on why choosing the NAIA is an easier choice but is the right choice!