76th Annual National Convention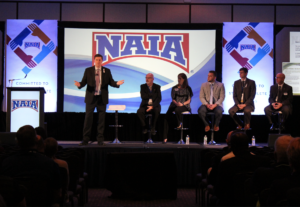 April 8 – 12, 2017
Westin San Diego – Gaslamp, San Diego, California
Each year, the NAIA National Convention is an opportunity for those who work on behalf of the student-athlete to meet with peers to discuss legislation, engage in professional development and honor those who have excelled throughout the previous year.
WHY YOU SHOULD ATTEND
Association business is not the only topic at the NAIA National Convention. Each attendee leaves the convention with a understanding of why the NAIA is the best fit for student-athletes. Sessions are offered and tailored according to each position at a school, including CEOs, athletics directors, faculty athletics representatives, conference commissioners and campus character representatives.
Quick Links
• Schedule
• Tips for First Timers

• Sponsors & Exhibitors
Future Convention Dates and Locations:
April 8 – 12, 2017  — San Diego, California
April 13- 17, 2018 – Kansas City, Missouri
#NAIAROA – Discover Your Return on Athletics!